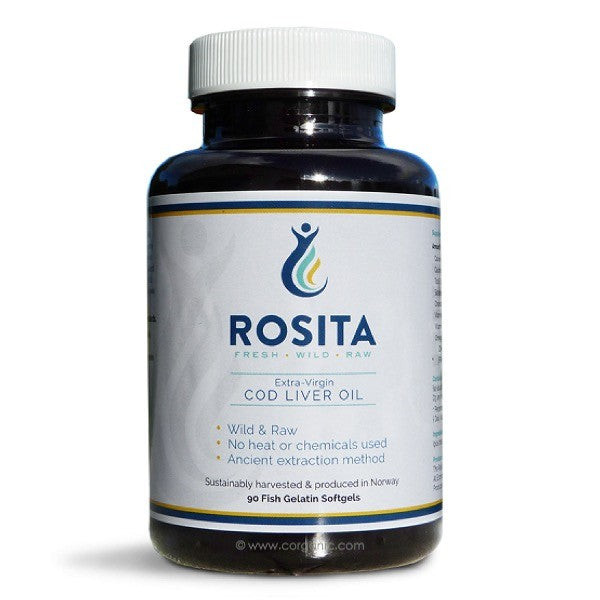 Rosita
Cod Liver Oil Caps (Rosita) RCP Approved
Wild and Raw.

From Fresh Livers.

No Heat or Chemicals Used.

Approved as a Food Supplement.
Rosita Extra-Virgin Cod Liver Oil (EVCLO) is produced in small batches from Wild Cod (Gadus morhua) sustainably harvested from the Pristine Waters of Norway. A rare and exclusive cold-process Artisan method extracts the oil and preserves the delicate nutrients naturally present in Wild Cod Livers. The resultant oil is as pure & authentic as it was for our Nordic ancestors hundreds of years ago.
Produced according to HACCP food safety standards.
Suggested Serving Size:
- 3 softgels (500mg each) daily.
- Adults take three softgels (500 mg each) twice daily.

Storage:
- Room temperature (15°C - 25°C, 58°F - 78°F)
- Do not refrigerate.
- The oil must be kept in dark storage.
- Shelf life: 3 years from production date. (First production Aug 2016)
If contact with the oil causes allergic reactions, please consult a physician.
All Rosita Real Foods™ products are tested by independent third-party institutes, laboratories and universities. Analytical tests have been performed by:
NIFES
ALS FOOD & Pharmaceutical
Eurofins Food Testing
BioDetection Systems
The Nutrition Analytical Service, Institute of Aquaculture, University of Stirling, UK
Humane Harvesting: 
-Norway has very strict laws and regulations for animal welfare and treatment of fish. This regulation has to be followed in order to be approved as a fisheries and fishing boat. Only approved boats can provide and sell fishing products. The Food Safety Authority (Mattilsynet) conducts control for this, see also https://www.mattilsynet.no
-The fish are killed immediately after their harvest from the sea. Firstly, as soon as the fish are removed from the water (and still living) we use a special blunt instrument to strike the head above the eyes. Then the main artery of the fish is cut and the fish is allowed to bleed. Finally, once all the above is complete the livers are removed and placed in a special container which is placed under proprietary cold conditions.
Stock – limited availability at times due to the handcrafted nature of our rare products.
Supplement Facts

Suggested Serving Size:
- 3 softgels (500mg each) daily.
- Adults take three softgels (500 mg each) twice daily.

Servings Per Bottle:
-

 

Approximately 30

Amount Per Serving

% Daily Value*

Calories 15

Calories from Fat 15

 

Total Fat 1.5g

2.0%

Saturated Fat 0.5g

Cholesterol 5mg

2.0%

2.0%

Vitamin A    1260 IU

25%

Vitamin D    127 IU

32%

Omega-3 Fatty Acids 417mg

DHA 195mg

EPA 143mg

†

†

†

Contains:

Omega 3, 4, 6, 7, 9 and 11 fats, vitamins, plus other fat-soluble nutrients. These nutrients, including vitamins A and D are 'naturally occuring' and never added to our oil.

Softgel capsule casing: Made Using 100% Fish Gelatin

Allergen Information:
- Contains Cod Fish.

 

*

 

Percent Daily Values are based on a 2,000 calorie diet. Double the values when taken twice daily.†

 

Daily Value not established.
---
More from this collection