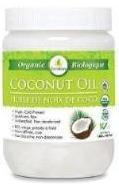 Ecoideas
EXTRA VIRGIN Ecoideas Organic Coconut Oil
Ecoideas Coconut Oil is in its purest and most beneficial state: Raw. We begin with Certified Organic coconuts that are cold-pressed, using a centrifuge to extract the oil – a completely chemical-free process. Our oil is never heated above 45°C to preserve its high lauric acid and medium chain fatty acid content. Many coconut oils on the market are damaged by processes like heat, chemical distilling, bleaching and deodorizing. Ecoideas does not use any of these refining processes, as they compromise the oil's active properties. We offer you superior coconut oil that is unrefined, virgin, and raw. The result is a fresh, pure coconut oil with maximum health benefits – coconut oil as it is meant to be!
• Raw
• Certified Organic
• Kosher
• Virgin (Unrefined)
• Non-deodorized
• Unbleached
• Cold-Pressed
• Unhydrogenated
• Non-GMO
• BPA free containers
• Guaranteed long shelf life
• Supports 'Disabled Friendly Foundation'
Disabled Friendly® Non-Profit Organization:
Your purchase of this product provides job opportunities to people with disabilities. A portion of funds is also donated to this social cause to further promote equal employment opportunities.
---
More from this collection