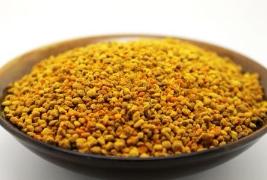 Healthfitters
Bee Pollen RCP Approved
The Greeks and Romans called natural Bee Pollen "the-life-giving-dust", eaten to acquire youth and longevity. The ancient healers, Hippocrates and Pythagoras celebrated this sweet and golden superfood. It has been consumed for centuries for its healing and rejuvenating properties. Bee Pollen is considered a superfood as it contains all the nutrients needed for life. It possesses over 180 known nutritional ingredients including at least 22 amino acids, 18 vitamins, 25 minerals, 59 trace elements, 11 enzymes, 14 fatty acids, 11 carbohydrates and approximately 25% protein. Bee pollen is extremely rich in carotenes, which are metabolic precursors of vitamin A. It is also high in B complex and vitamins C, D, E, and Lecithin.
Suggested us: Start with 1-1/2 to 1 teaspoon added to blender drinks, food or eaten on its own. To avoid allergic reactions, gradually increase to the recommended serving of 1 tablespoon per day.
The statements and products referred to throughout this site have not been evaluated by Health Canada. They are not intended to diagnose, treat, cure or prevent any disease. Individual results may vary. Seek the advice of a competent health care professional for your specific health concerns. If you have a medical condition or are pregnant please consult your primary health care provider before use.
---
More from this collection